Shiningintl Wifi Smart lighting instruction
About bluetooth mesh
Bluetooth MESH network currently uses MESH network technology based on flooding protocol. In the  future revisions, MESH networks based on routing protocols may be added.
Actually, the flooding protocol is a  primitive MESH network technology. Since data packets in the network layer are transmitted and forwarded in the form of broadcast, a large number of repeatedly transmitted data packets are generated in the network, which has a large negative impact on the overall power consumption of the network. The current flooding MESH protocol is only suitable for small-scale networks and is not suitable for application scenarios with large network data volumes.
disadvantage: the bluetooth mesh can't connect into internet directly, it need depend on other internet device.
more technology about bluetooth mesh
About wifi lighting
The wifi smart lighting system is a living environment. It is a residential environment where a smart home system is installed. The process of implementing a smart home system is called smart home integration. The wifi smart lighting system incorporates an automation control system, a computer network system, and a network. Communication technology in one of the network of intelligent home control system.
Disadvantage:
the wifi signal may create interference in a limited space with too much wifi device, it can bring problems such as internet slow down or network blocked.
Shiningintl integrated smart lighting Architecture:
The Shiningintl smart LED lighting bulb contain two type of bulbs, the first one is the master one, it has the wifi wireless conection capability and Bluetooth mesh capability, the wifi is used to connect to a connected device such as smart phone, smart speaker(such as Amazon Echo and Google home speaker). The second type bulb is a bluetooth mesh only bulb, all bulbs build up a bluetooth mesh network, it can reduce the interference.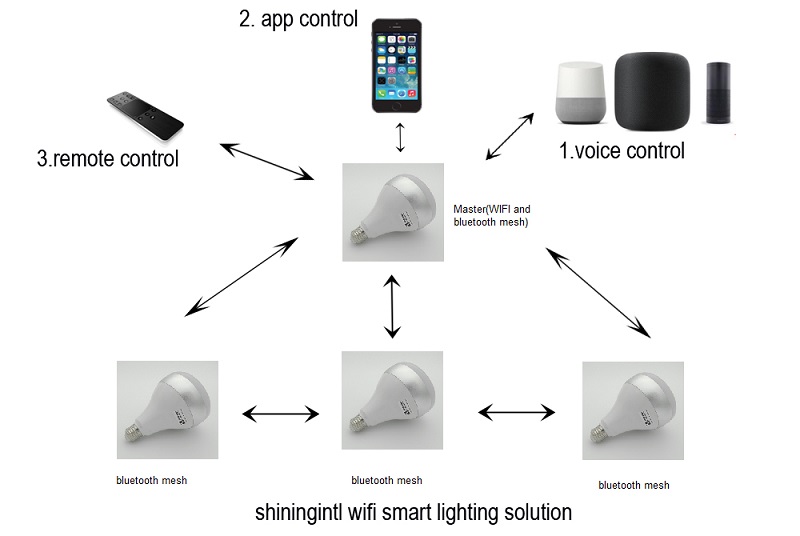 Remote controller config and control
1-for preparsion, keep the light off.
2-hold the remote close to the light, press and hold the "ON/OFF" button for 7 seconds until the red light onflashes.
3-turn on the light
4-the remote and the light are connected until the light of remote turns blue and flashes three times.
App download and setup
Android system:Seach "ANKEE" or "ANKEE Smart" at Google play store. Otherwise, you can download the app through the website below: https://www.pgyer.com/ANKEE-android
IOS system: seach "ANKEE" or "ANKEE Smart" at Apple Store. Otherwise, you can you can download the app through the website below: https://www.pgyer.com/ANKEE-iOS
more detail please download the operantio guide